THE STREET PARTY IN MARRICKVILLE. It's Back in 2020!
By
Sam Eacott
Following the destruction of our favourite inner west location by Westconnex, we're back with a fancy new street and a line up of music, art and performance that will knock your socks off. Taking place on January 18th in Marrickville, and with newly added Newcastle location on January 25th, Heaps Gay Roadwerk 2020 will be showcasing all our LGBTQ+ communities have to offer.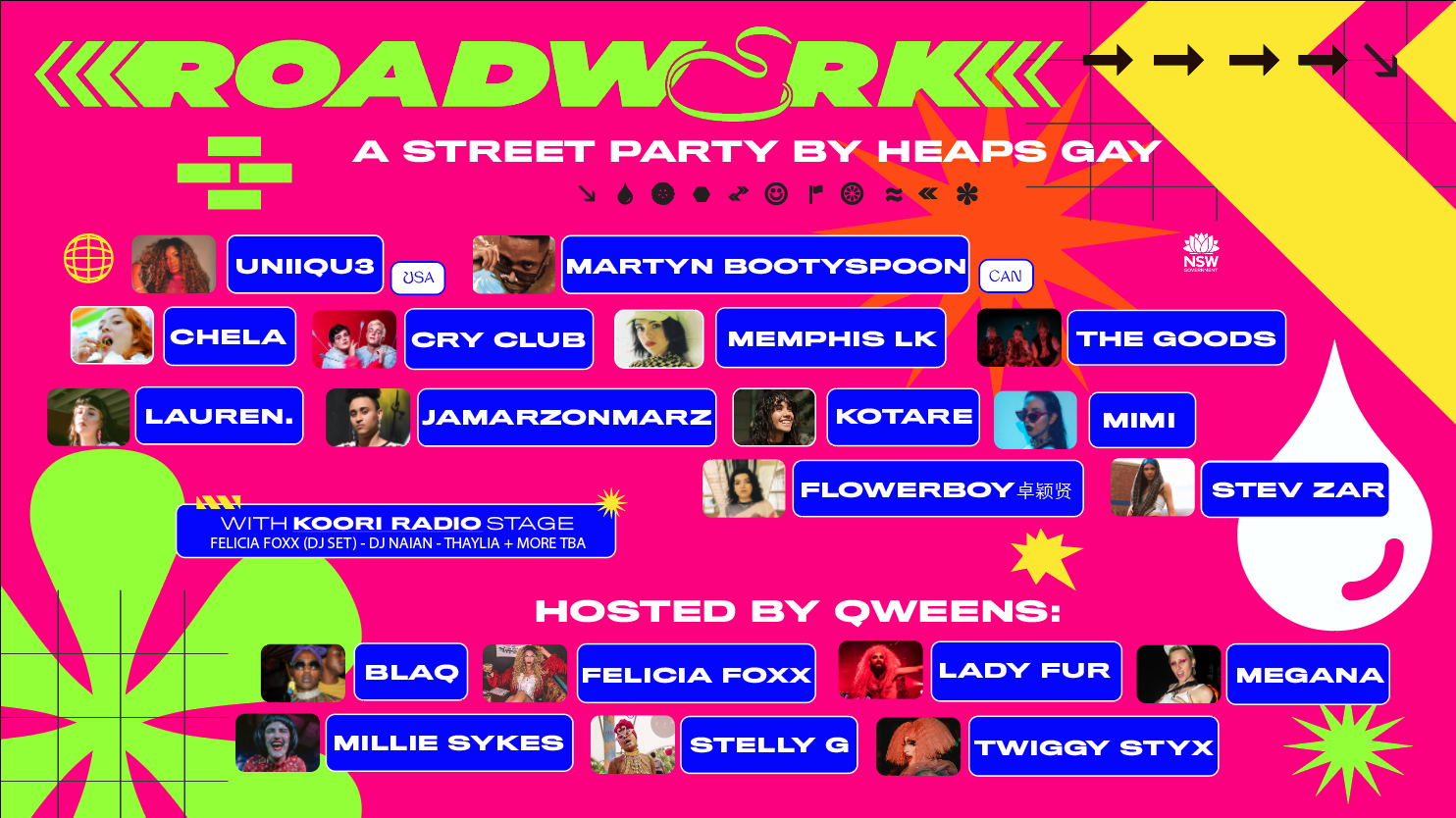 Headlined by Jersey Club queen UNIIQU3, Roadwerk is destined to champion pioneering and diverse sounds from across Australia and the globe. Following a music career as a sought after vocalist, Cherise Gary aka UNIIQU3 has risen to the forefront of dance music with poppin productions and an EP out via Australia's own Nina Las Vegas Records. Now set to take the stage for the first time in Marrickville and Newcastle, we're stoked to see what she brings to the table.
Joining her in Sydney we're excited to be hosting Martyn Bootyspoon, the Montreal based DJ who is a party pro. Following an absolute cracking EP in 2018, Martyn has been splashing good tunes and fun vibes touring the world. Give his track "Spread That Kat" a spin.
Simultaneously uncompromising, expressive and eloquent, Australian.Filipino alternative-pop artist Chela has stayed true to her vision since she erupted through the noise with her first crop of blissful tunes. No stranger to festivals, Chelsea Wheatley brings a level of precision and panache to everything she does.
Drawing inspiration from strong female figures from soul, 90's RnB and pop superstars, Memphis LK is a Melb/Narrm based artist, producer, vocalist and DJ whose lighting up the airwaves with her blissful take on dance music.
Melbbourne via Wollongong post punk pop party duo Cry Club will be turning up the tinsel tinged rock at Roadwerk 2020. Debuting with the high velocity track Walk Away last year their attitude is political, emotionally attuned and in your face when it needs to be. Give DFTM (Don't Fucking Touch Me) a spin to get the vibes rolling.
Brisbane based, Sydney born rapper Lauren. packs a huge punch with a party twist. A firecracker of a live performer there is no stopping this raucous fire spitter when she's in the zone. Get the below vid pumping if you don't believe us.
Bringing a sound that reaches into the realms of spaced out party funk and naughty RnB, The Goods flavour is simultaneously wild, eclectic and perfectly that summer vibe. Apart from sharing a similar fascination to peaches as Timothée Chalamet, they've also got a hefty bop with street party alumni Touch Sensitive.
Beyond live music we've got a 🔥🔥🔥 selection of DJs including  Kōtate fka Sezzo, MIMI, Flowerboy and Stev Zar. To stoke your fire for a bangin summer have a listen to some of their mixes below.
Kōtare Purple Sneakers Mix – MIMI triple j Mix – Milkteeth (Flowerboy x Kilimi) FBi Rado Mix – Stev Zar FBi Radio Mix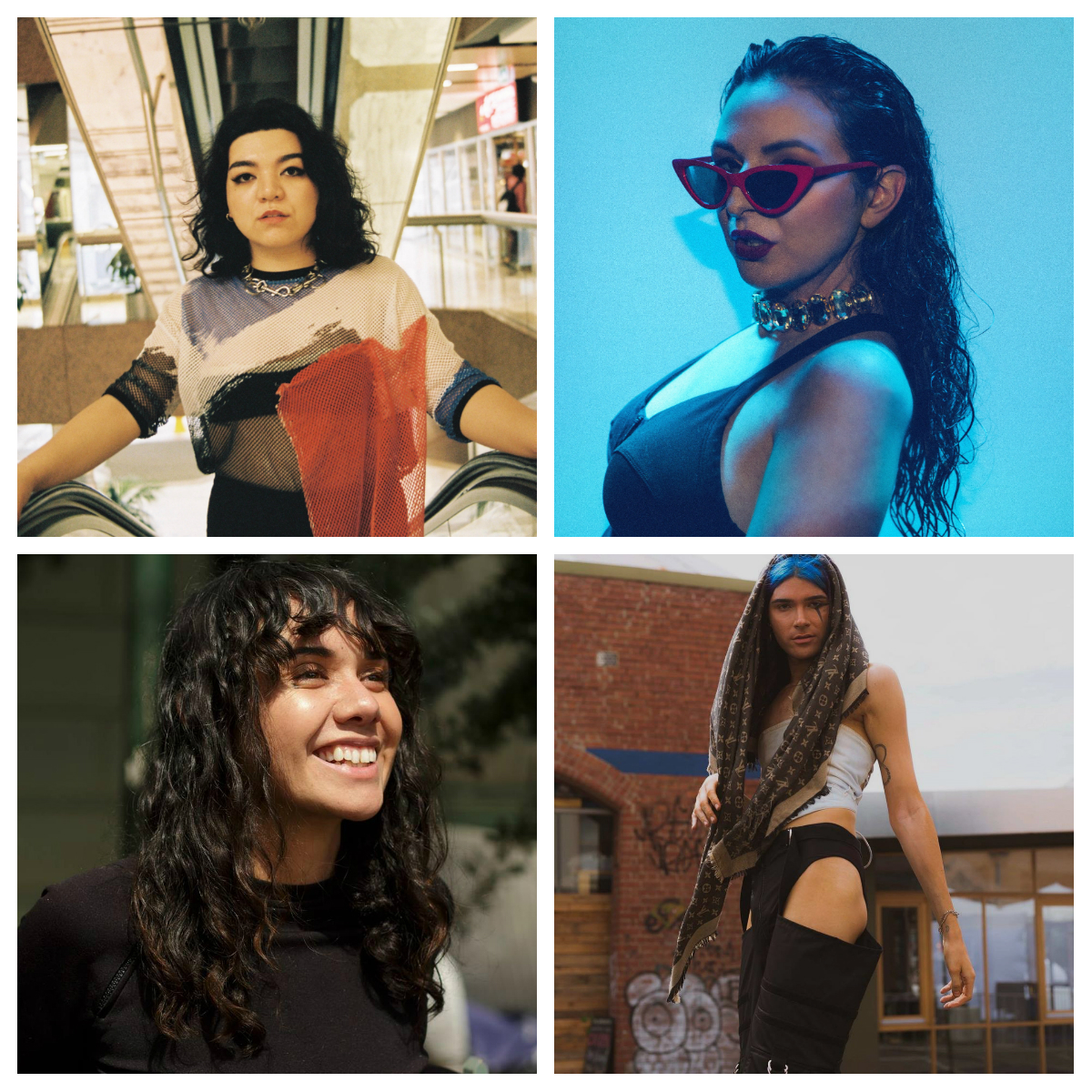 If that wasn't enough for one party also meet our Qweens below! We've also got a whole stage curated by Koori Radio, a full Performance Space spot as well literally the best in Sydney food and beverages. It's gonna be cuuuuuuuuute. x